Udzabukhaphi? [Be]longing to/for Place

A Speculative Study of the Mfecane War, as a Counter Cartography for Nguni Landscapes of Belonging
Simphiwe Mlambo

MArch 2022
Supervisors:
Unit Leader: Craig McClenaghan
Unit Tutor: Ruby Mungoshi
Unit Assistant: Azraa Gabru
UNIT 21
Phantom Cartographies
Awards
Transformative Pedagogy Prize
Distinction
My MDP Titled: Udzabukhaphi? [Be]longing for/[to] Place, is a speculative study of the Mfecane war as a counter-cartography for Nguni landscapes of belonging in Southern Africa, and explores my interests developed from my Honours work. Siting the map and act of cartography as a primary architecture that creates conditions of identity, terrain, and languages of the Black body.

The MDP aims to investigate the relationship of architecture, the literary cartography, and the body by examining the method of cartography as a site of contestation, providing a framework to engage with the often-overlooked aspect of architecture, a site that structures how we move and relate to our bodies in physical space, i.e, the Map.

The work proposes counter-cartographies, read through the Mfecane war and its displacement of the Nguni people, that override notions of universalisation of cartographic productions in the western canon, through ritual practices of place. By developing a system of cartographic forecasting devices, taking from Prophecies constructed in the war, the body is used as a measurement device to inscribe a new geographical environment, producing a collection of Almanacs that '[re]ad-dress Nguni Landscapes of belonging, challenging cartographic drawing tactics of [re]scaling, [re]naming, [re]projecting, and [re]directing to narrate alternate logics of territory and border, as influx and everchanging.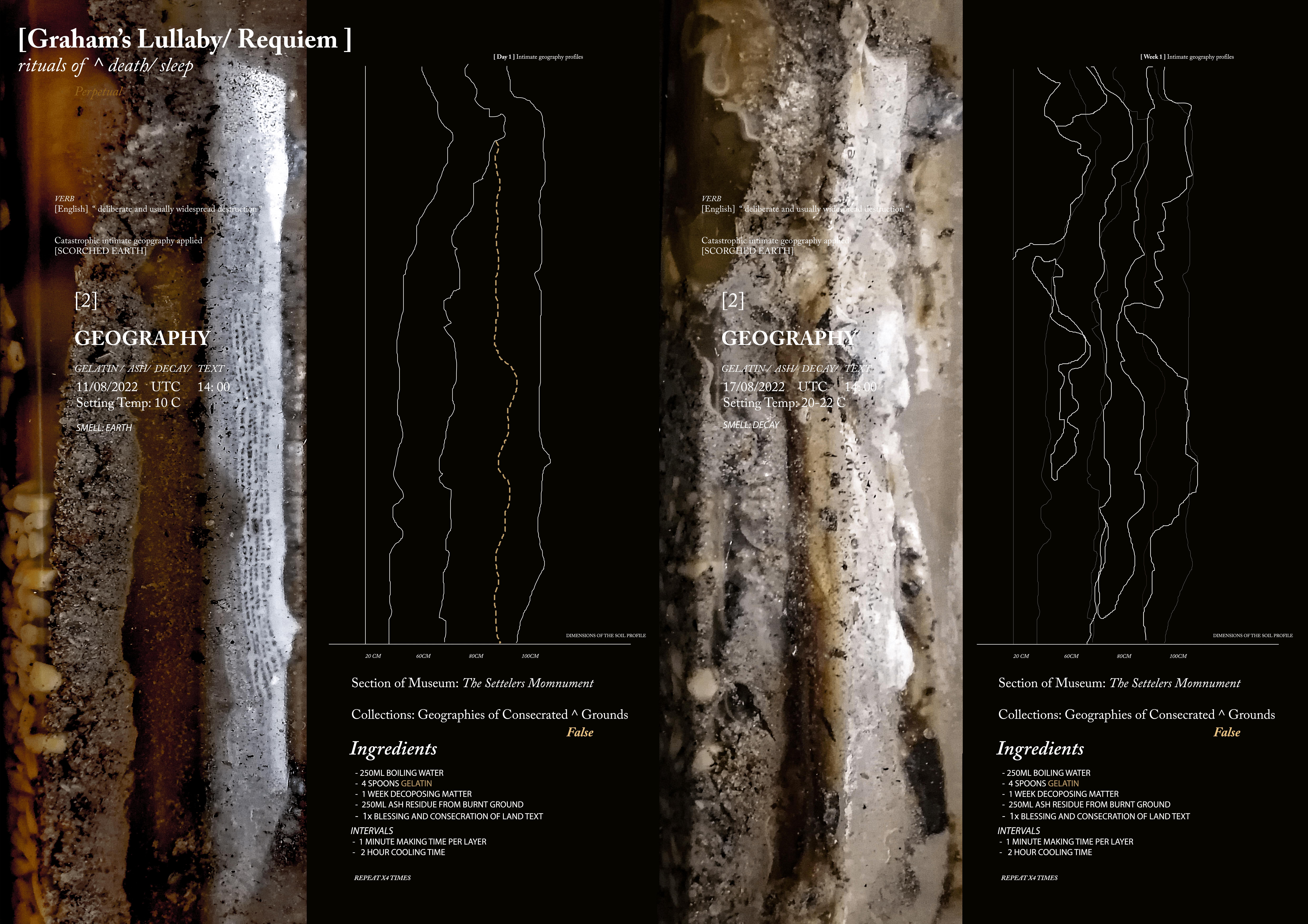 Copyright © 2022 Graduate School of Architecture, University of Johannesburg, South Africa. All Rights Reserved.