Marilize Higgins

MArch 2022
Supervisors:
Unit Leader: Tuliza Sindi
Unit Assistant: Tshwanelo Kubayi
Unit Assistant: Miliswa Ndziba
UNIT 19
Unsettling Ground: Beyond the Terra Nullius
Awards
Unit 19 Prize
The work approaches architectural practice as the process of museumification, as it produces static programmatic conditions whose aim is for built fabric to endure rather than adapt to societal changes, erasing both what was and what could be as it insists on what must be. This practice produces what we term ghost-town conditions, or anti-resilient landscapes.

The work defines architecture as the law that structures and guides the 'rhythm' of society, and the work traces how architecture-as-law imposes normative and acceptable conditions of time.

The work focuses on the Usufruct law, and its capacity to render static-ness and exclusive private ownership dynamic and mobile. Due to its legal nature of ambiguity, 'latent ambiguity' law practices are able to be implemented in how the law is applied in practice. Its vague definition of the terms 'value' and 'vandalism' determine the scope of the research endeavour.

The project site of interest and intervention is the Langa railway tracks in Cape Town, owned by PRASA, which is occupied by over three hundred unlawful residents with a pending eviction order.

The work proposes alternate ownership possibilities, by reconfiguring this static conception of ownership, and introducing notions of dynamic property in an effort to legalise their presence.

The research is conducted through model building, videography, and drawings that allow audiences to experience architecture social rhythming and structuring capacities.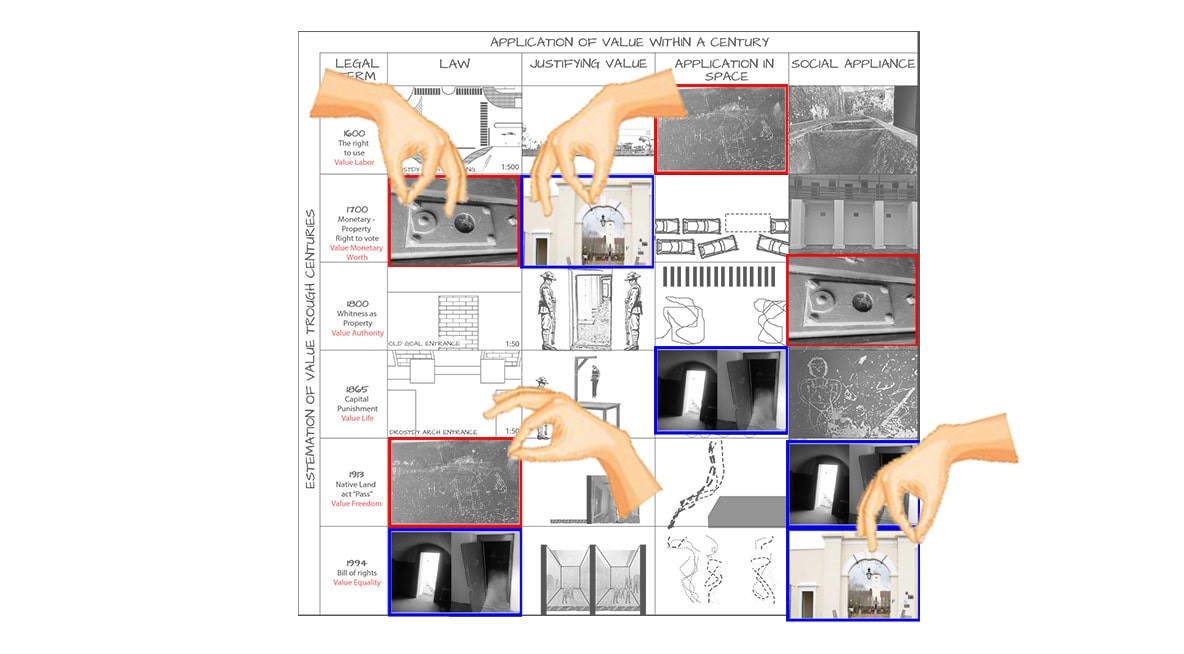 Copyright © 2022 Graduate School of Architecture, University of Johannesburg, South Africa. All Rights Reserved.