The Walking Memory of the Soweto Uprising

Analysing the Events of the Soweto Uprising through the Act of Movement
Mukanzila (Joel) Banza

BArch Hons 2022
Supervisors:
Unit Leader: Dr. Finzi Saidi
Unit Leader: Mathebe Aphane
Unit Tutor: Bonolo Masango
Unit Tutor: Nomalanga Mahlangu
UNIT 15X
Landscapes of Memory
My MDP is titled the Walking Memory of the Soweto Uprising. I will be analysing the event of the Soweto uprising through the act of movement.

My investigation and design methodology will employ the use of visual narrative and mapping as a tool to understand the current memorialised journey of the Soweto uprising and design a space that commemorates all the students that died on 16 June 1976.

How do we memorialise the Soweto uprising after almost 50 years?

The South African government decided to build a project that memorialises the Soweto uprising. The June 16 memorial and the Hector Pieterson memorial and the journey of the students is mostly memorialised around Vilakazi Street. Is this the best way to memorialise the Soweto uprising?

My MDP proposes a pilgrimage route that memorialises the events of the Soweto uprising. This pilgrimage route will be a place to gather, to remember and commemorate the Soweto uprising through walking the journey of the Soweto uprising from the schools to the Hector Pieterson memorial.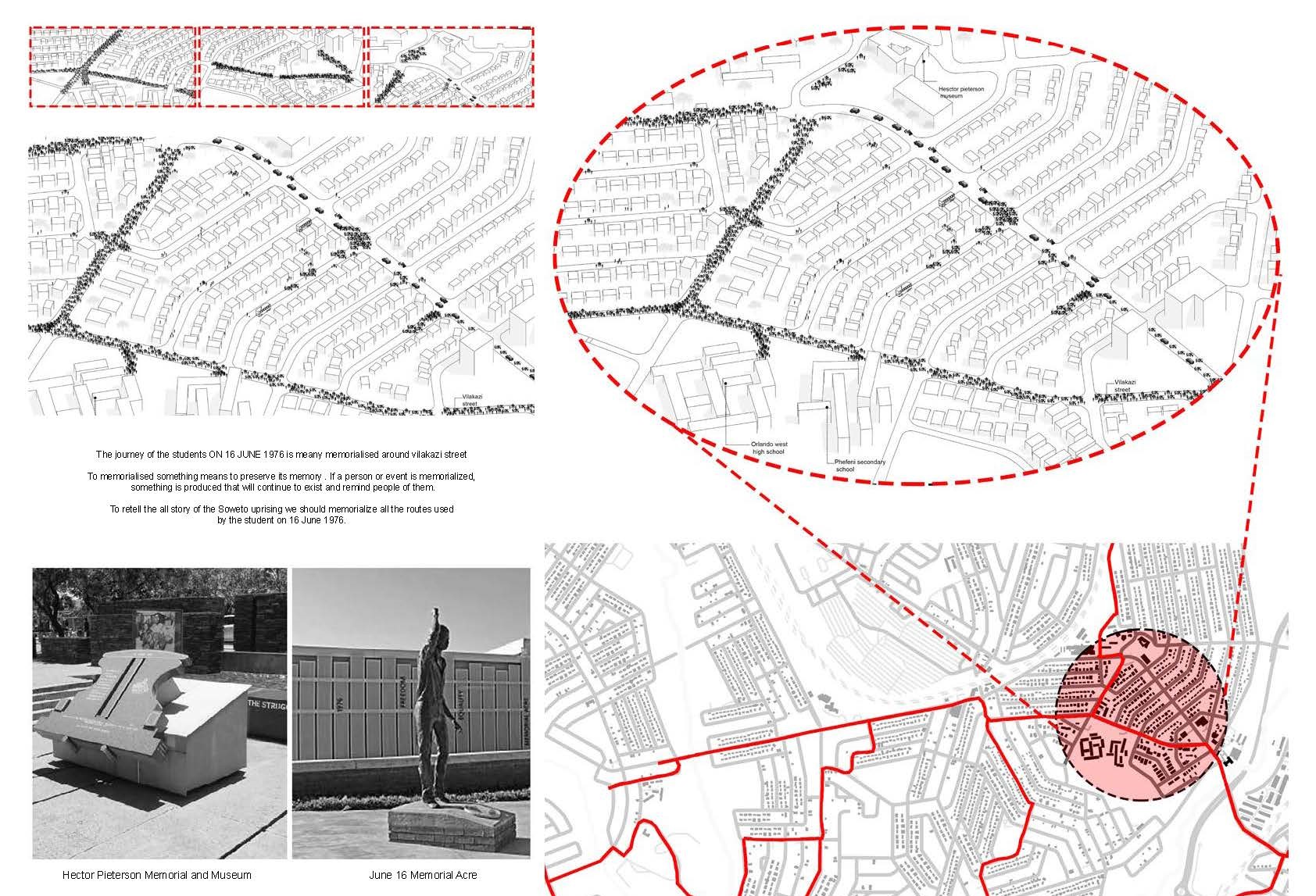 Copyright © 2022 Graduate School of Architecture, University of Johannesburg, South Africa. All Rights Reserved.