The Undiscovered Pearl of Menlyn

Connecting People Working at Menlyn Maine to the Nearby Informal Taxi Rank
Heike Melcher

BArch Hons 2022
Supervisors:
Unit Leader: Gregory Katz
Unit Tutor: Jaco Jonker
Unit Assistant: Senzo Mamba
UNIT 17
Making... A Difference 2022
The project is based on an existing shopping centre site, called Menlyn Piazza, which is located on the corner of Lois Avenue and Glen Manor Street in Pretoria. The site currently has vacant top-floor offices and retail uses on the ground floor. The site is bordered by an informal taxi rank, which has a history of disputes between the informal taxi rank users and the neighbouring shopping malls. During mapping of the project site, it was discovered that there are many people working within Menlyn Maine Lifestyle Centre and its surrounding area that walk past the site to get to the informal taxi rank located on the western side of Menlyn Piazza. These commuters are the target audience for the project. The project aims to design an anti-mall, which comprises an urban plaza, that connects the people walking from Menlyn Maine to the informal taxi rank, while providing convenient shopping opportunities in a retail strip situated along the edge of the urban plaza. The retail strip aims to cater to the needs of the people working within the Menlyn Maine Lifestyle Centre and its surroundings, supplementing the lack of the mall and surrounding areas to cater for the needs of these workers and commuters. The project site intervention uses a mix of formal and informal shops and markets that cater to the needs and commuter-culture of the informal taxi rank users.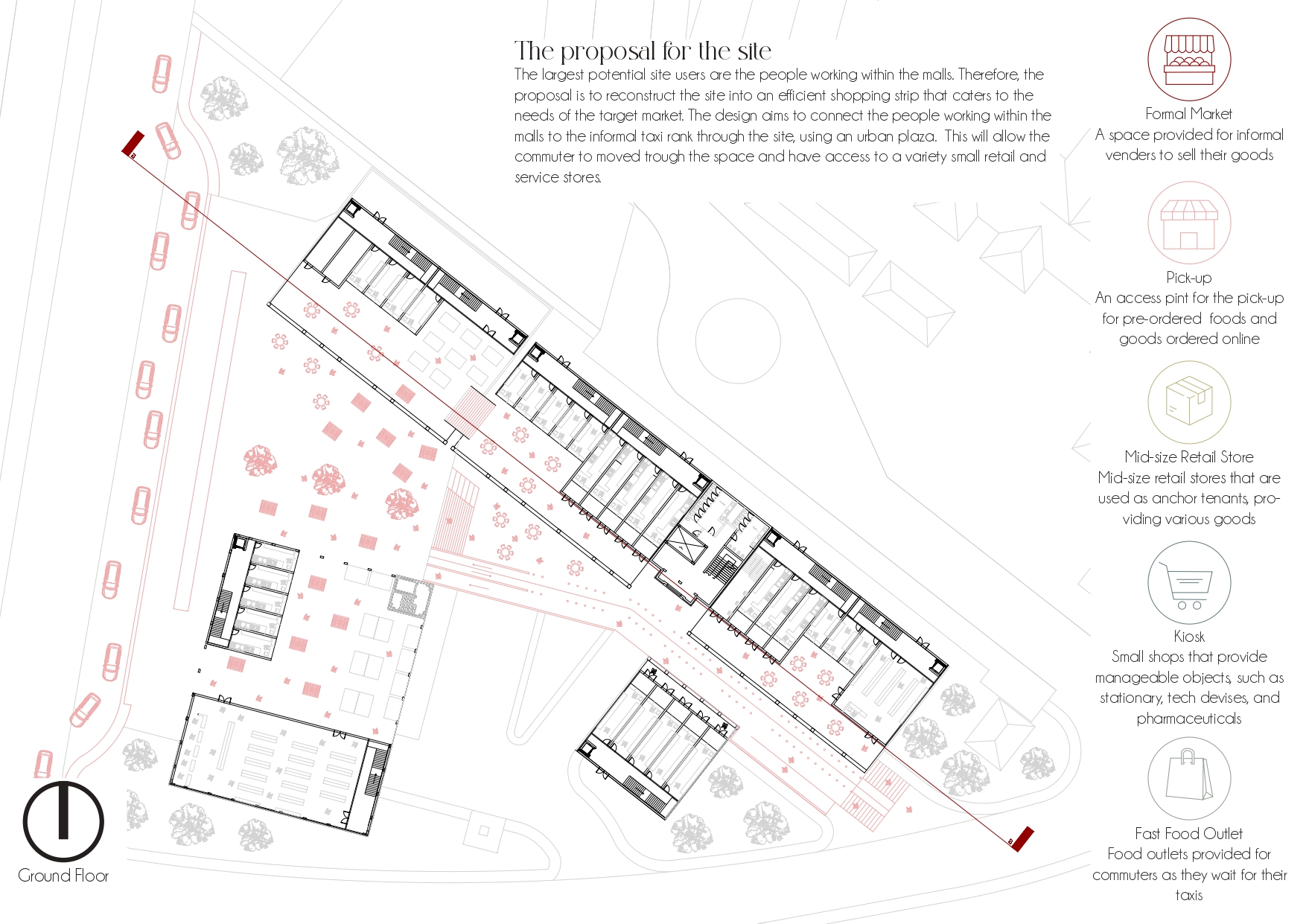 Keywords:
Convenient Shopping, Anti-mall, Connecting People, Informal Taxi Rank, Small Shop, Urban Walkway, Convenience
---
Copyright © 2022 Graduate School of Architecture, University of Johannesburg, South Africa. All Rights Reserved.